Polycystic Kidney Disease with High Blood Pressure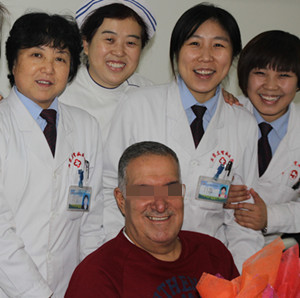 Name: Abdulaziz Almahmeed
Birthplace:Bahrain
Gender: male
Age: 55
On July 14, 2014, Abdulaziz Almahmeed came to our hospital for the treatment of his disease. 15 years ago, he was diagnosed as Polysistic Kidney Disease, before came to our hospital,he has difficult in urine for nearly 15 days and the blood urine 5 days. After 40 days treatment,all the symptoms goes well, so he want to back home, in order to relieve the economic burden doctors in our hospital agreed him to back home and continue the home remedy to consolidate the curative effect. The following are some detailed informations about his disease and the treatment in our hospital, let us have a look together.
After a series test, we diagnosed him as Polycystic Kidney Disease,Uremia,Renal High Blood Pressure,Renal Anemia,metabolic acidosis,Multiple Kidney Stones,Type 2 Diabetes,Prostatic Hyperplasia, Fatty Liver, Secondary Hyperparathyroidism. Then according to his condition, we give him the corresponding treatment: apply external Chinese Herbal Medicine and Medicated Foot Bath to promote blood circulation, use Oral Chinese Herb Medicine to protect the kidney function, take Maikang Mixture 50ml three times per day to regulate the blood and qi. Accept the above measures, we also give him some medicines to take, such as Simvastatin tablets 20mg once a night to reducing lipid, Gliclazide sustained-release tablet 30mg once a day to reduce blood glucose, Aspirin 81 mg 1 time/day to relieve pains and fever, Allopurinol Tablets 100ml once a day to lower Uric Acid, Vitamin D 5000 IU once a week to regulate calcium and phosphorus metabolism, Amlodipine 10mg once a day to lower the high blood pressure and some other necessary medicines to help the patient live better.
If you want to know more informations about the treatment of Polycystic Kidney Disease, you can leave messages or email us. Our email: kidneyabc@hotmail.com.
Tag: Polycystic Kidney Disease Tell Your Story high blood pressure Polycystic Kidney Disease with high blood pressure
Previous: Stage 4 Kidney Failure with High Creatinine Level and Low Im
Next: Moderate Kidney Damage with Protein 3+ Can It be Reversed