Diabetic Nephropathy Patient Enjoy A Good Time Here in Shijiazhuang Kidney Disease Hospital
JAGDISH PRASAD, male, 78 years old, he is a Diabetic Nephropathy patient and comes from India. He has been suffering from Diabetes 25 years and his creatinine went up since 5 years ago. Before he came here, he has accept a series of treatment in his local hospital and his disease got controlled at one time. But later, it relapse again. So in order to get further treatment he decided to come here to try a fortune, and finally he got it with the help of our doctors and nurses.
He has to take insulin and many medicines to control his diabetes and kidney disease, sustaining life. After inspection, experts determine that he has Type 2 DM, Diabetic Nephropathy Stage 5, renal anemia, Diabetic Peripheral Neuropathy (DPN) and metabolic acidosis.
Look at the comparison values before treatment(right) and post-treatment(left), you'll know the curative effect clear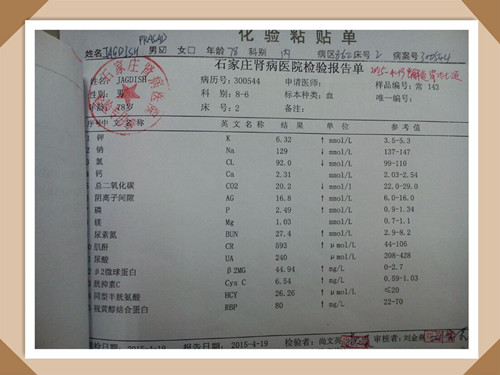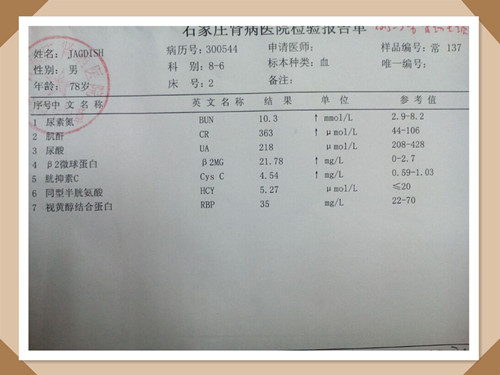 Romantic
On May 2 is a special Day, Golden Wedding Anniversary, for JAGDISH PRASAD and his wife. In his day, we nurses and doctors in Shijiazhuang Kidney Disease Hospital arranged a small celebrate to bless them, hoping they will be happier.
The following is a group of Picture about his life here, look how wonderful it is!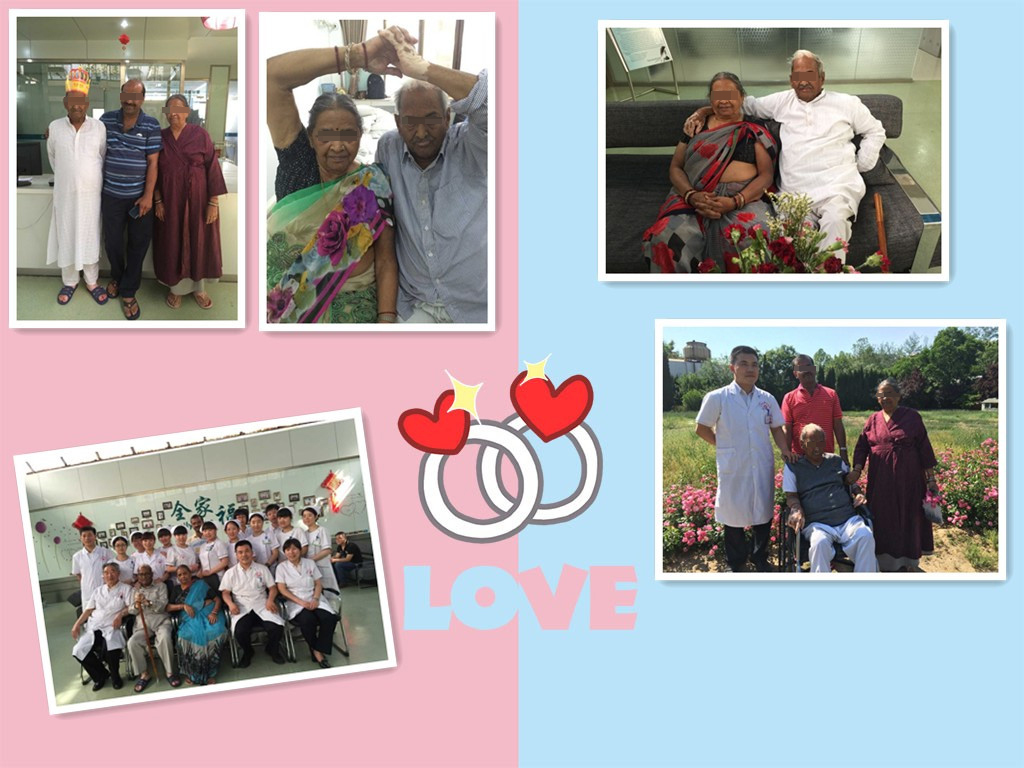 If you want to know more details about his treatment here or need any help in treating kidney disease, you can send email to us or consult our doctor on WhatsApp/Viber, we will try our best to help you.
Our email: kidneyabc@hotmail.com
Our WhatsApp/Viber: +86 13503211882
Tag: Shijiazhuang Kidney Disease Hospital Diabetic Nephropathy
Previous: The Top Treatment for Purpura Patients in China
Next: Many Years' Fighting for Diabetic Nephropathy with Protein 3+ and High Blood Pressure